Even though this week was literally only three days, it felt like forever! I spent most of my July 4th weekend trying to finish up ARIS homework for chemistry (no firework watching for me sadly) along with vectoring images for t-shirt designs since my brother wanted to get those done soon. And yes, you heard right! My brother and I are attempting to create a t-shirt/clothing company. Obviously it is in the making and process, but it's a fun thing to do when you feel stressed out from school—details will come soon when I get the website going (I can't wait to code). I must warn you ahead of time, it is pretty awesome and you should purchase for yourself and loved ones. ;D
Now, the main reason I feel a tad stressed is because the summer session at UIC is really intense and I happen to be taking two courses: Chemistry 114 and English 222 (Tutoring for the Writing Center). Why am I taking the latter course when I only get elective credit, which could have been spent on an art class?! Good question! A part of it was because my English 161 professor encouraged me, and the other part was because I have always been fond of writing. It is another medium that you can take on and manipulate to express how you feel, given that you know the rules and what rules are okay to break thanks to your artistic license. I've been tutoring at the Writing Center as well as sitting in with SEWW (Summer Enrichment Writing Workshop) classes with incoming freshman to help formulate ideas and organize their thoughts in a more fluid and effective way. It saddens me a bit to see them ask me questions about what they should put in their paper to get an A instead of trying to focus on writing a well-written paper, but I hope with time they will enjoy writing.
Anyway, the point of that spiel was because this past weekend I had to write about eight pages worth of text for that class about my tutoring philosophy and a literacy narrative, which I wrote about the first time I noticed color (the writing center has a strong mission for social justice). My mind was exploding because I had no idea how to start a paper on my tutoring philosophy without having much experience and practice besides reading tons of articles on the theory of the writing center. Luckily, I talked about my papers with someone in the class (we had to cross-tutor for these assignments) and it was such an enjoyable conversation. I mean, my major is biological sciences and I am constantly surrounded by "the anal pre-med students" as Joel Brown calls us/them and it just isn't the best environment. Many are just overly competitive and only care about the end result, making the pathway to that goal the least important worry. I love being in classes that involve non-science subjects because it makes you think differently and interact differently with others. There is only one other biological sciences major in my English 222 class, and everyone else is either an English major or an education major. Gosh, I am too busy.
I didn't go to work Monday because of the holiday, but tomorrow morning I'm going in to check if I have any assigned tasks. I love working for UIC Campus Housing because they are so flexible, the staff is chill, and I get to make websites! I remember back when Xanga used to be popular I had my own website where I made layouts for people. I was seriously obsessed with coding and made one layout each day, maybe even two layouts a day. Too bad I don't have a life now with all the studying I'm doing!
I kid. Today I finally took a breather and went to downtown Chicago! My friend Grace texted me and told me Pinkberry was giving away free yogurt as a promotion for their opening tomorrow, and man do I love frozen yogurt! I had to wait two hours in line and my feet and legs were really straining, but it was totally worth it. It was a nice treat because earlier today I had a quiz in chemistry (boo) and had to run a qPCR with new samples at research, which took a bit longer than expected. Yeah, I am exhausted. I am also disappointed in my Zune. I think I've had it for two or three years now, but it just randomly deleted all of my songs and videos and pictures! It's really bizarre and I hope I can figure it out by tonight or tomorrow because it is such a great MP3 player, but if not…I'll have to call up Microsoft to ask them what's the issue. Ah, my phone is starting to act up too. Technology these days…
Here's a picture of the front…after waiting two hours in the longest line ever. Oh well, free food is always delicious: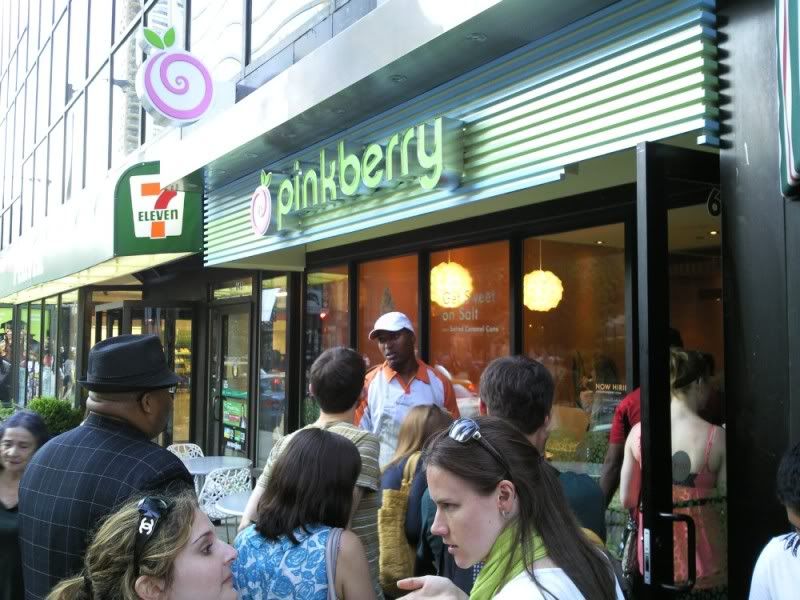 My yummy yogurt choice: Mango flavor with kiwi, strawberries, mochi, and a wafer!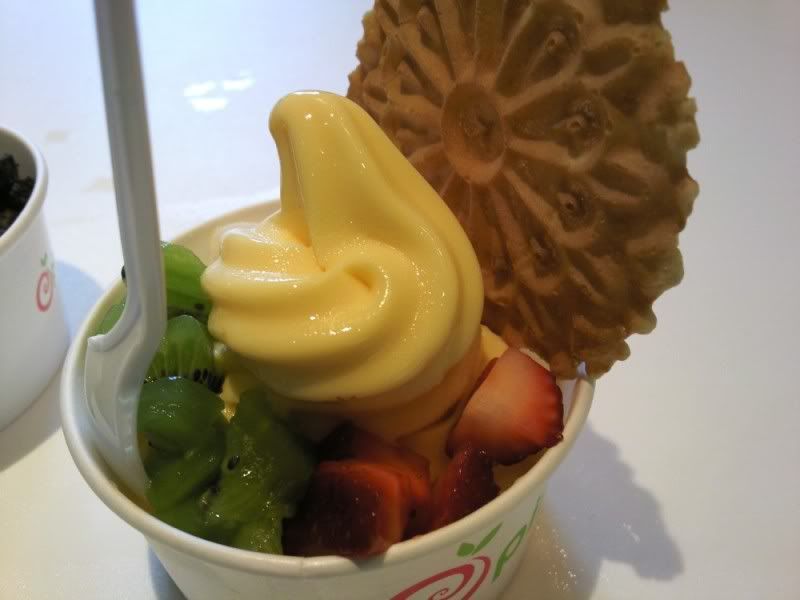 Well, this is quite a long post…I suppose I'll stop soon. This weekend will be a very chemistry compounded weekend: lab practical Tuesday, second exam Wednesday (I seriously JUST took one a week ago), and lots of lab reports and homework to do. Did I mention I don't like chemistry? Man, and I have to write even more essays! I already miss home and my cute baby turtle Chompy.<3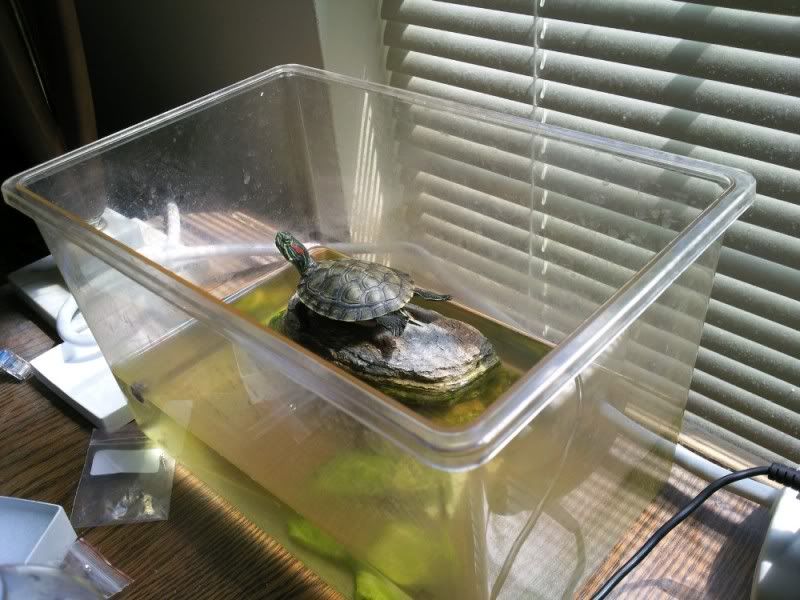 "Throw your feet in the ayer, ay, ayerrrr." – Chompy. Props to Flo Rida for original lyric.